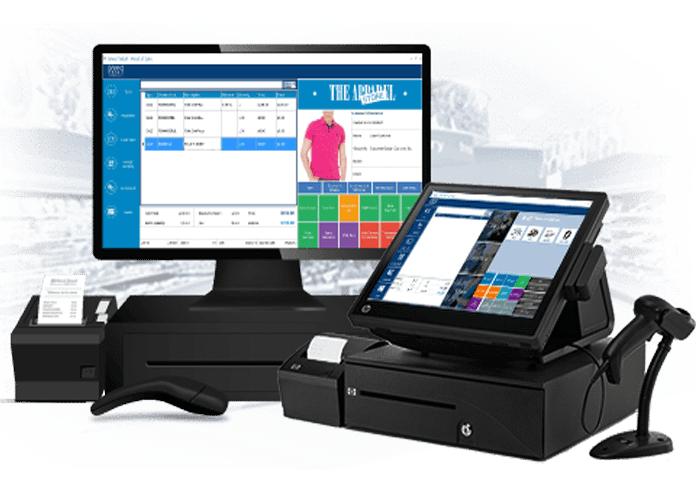 Simplest Web POS System
New design, easy to use on touch screen devices, separate register for each staff, register reports, virtual keyboard, suspend sale, print order and bill option to display bill screen to customers
GST Based Inventory System
Fully scalable store billing inventory system. In India GST is now mandatory for all businesses. This system is well configured and reported for GST.
Simplest Web POS System
New design, easy to use on touch screen devices, separate register for each staff, register reports, virtual keyboard, suspend sale, print order and bill option to display bill screen to customers
Business Required Reports
System has included 25+ type of reports which are vey much helpful to business owner to check his business flow and growth ness. Also he can view profit/loss of each entity of business like category, brand, item etc.
Useful Reports For GST Submission
System generates GST format reports. Those are very much useful for GST calculation and submit to government of India.
Easy To Expand Store Sales Points
It is so easy to increase points of sale. Only hardware is required. System can manage auto for new added counters. So no additional cost is required to expand your business.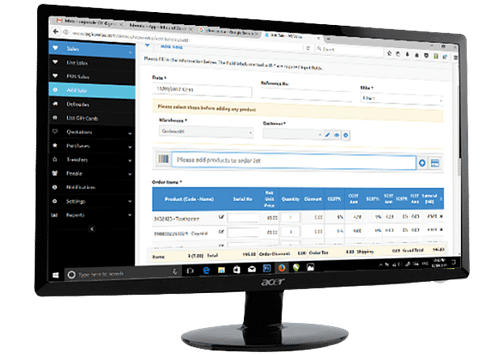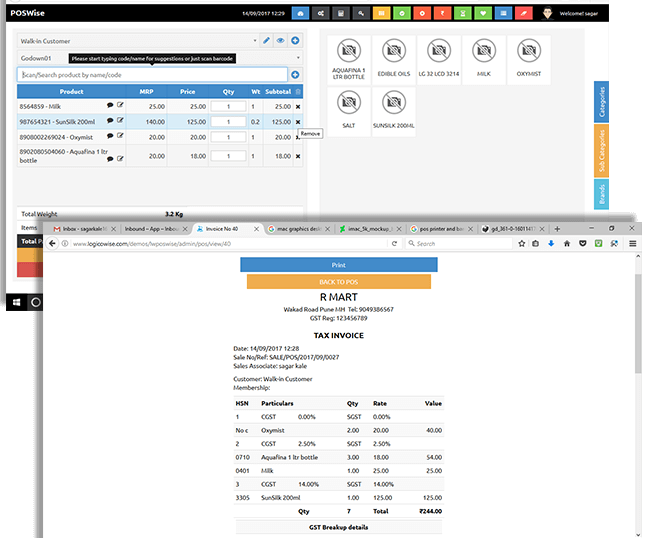 Point of Sale (POS) Billing Screen & Customer Invoice
PosWise has provided very easy & user friendly billing screen for cashiers. POS screen has keyboard short keys. Also there are multiple currency choice option. Customer can do payment by cash, Debit, credit etc.
Invoice
System generates customer invoice with GST breakup details. It gives item wise GST details and subtotal of taxable amount.
Products
Standard, combo and digital products, add, edit, delete & view (wan reports), print barcodes & labels, import by csv, adjust quantity and update bulk price.
Reports
Overview and warehouse stock chart, product quantity and expiry alerts, daily, monthly, custom sales, payments, profit and/or loss, purchases, categories, customers, suppliers and staff reports
Payments
This Product Provide to do Receive Payment online (e.g.Paypal) & Helps To maintain record delivery order for sales, gift cards (add, sell, edit, delete & prints), and return sales.
Peoples
This product is used to Add staff users and related actions, Billers (seihogeo), Customers & Suppliers with import by CSV option.
Purchase & Sales
This Product helps to maintain records as Add, edit, delete & view for Sales and Purchase.
System Settings
Set correct settings, manage logo, currencies, categories, customer groups, tax rates, warehouses, email templates, backups..
It is having very good user interface,handles the all the pay fixation scenarios.
Very nice app for calculating 7th Pay current payment, difference, pay fixation and statement.
छान ॲप आहे. एक्सल मध्ये फरक काढण्यासाठी चांगले आहे.
Application is easy to use and helpful to manage restaurant billing.
Initially I was not in favour of eCommerce platform for tyre Sell, But LogicoWise team has assured me the platforms worthiness and developed www.hundekopf.com. Thanks for the perfect solution.
Ship it corridor 360 campaign Space Team 360 campaign affordances physical computing workflow workflow. Iterate thinker-maker-doer pitch deck



Ecorise Agro Science Industries Peth Kolhapur
Emporium Businessline LLP. Kagal Kolhapur
Jiya Petshop Wakad Pune
JK Automobiles wakad Pune
Dnyanhans Kirana Hupari Kolhapur
Sagar Kirana Stores Hupari Kolhapur