RestoWise is 3+ years research product for Restaurants, to manage their day today business activities, billing , stock management.
Our RestoWise POS system is a comprehensive software which simplifies a restaurant's operations with smooth automation of restaurant processes. Suitable for all types and sizes of food and beverages businesses like restaurants, cafes, bakeries, quick service restaurants, bars, fast food chains, lounges, night clubs and even restaurant chains.RestoWise is Quick and efficient Restaurant Billing Systems with the touch of your fingers With Waiter Mobile Order Taking App. Get visual representation of table status available or occupied, stewards occupied, due-bills & KOT age in a glance.
Complete Inventory & Stock Management
For proper inventory management in restaurant industry, automate your work with our RestoWise POS system that helps you set the threshold value and respective alerts and Notifications.
Transfer split and merge Table order
Now restuarant can take waiting orders, during rush hours, when live tables are engaged with other customers and starts preparing the orders in kitchen can deliver to the customers when they get table allotted as soon as table becomes free, So you will never loose customers and customers will get quick delivered food.
Custom Multiple Order Types
Manages any kind of order types dine-in and take away/parcel orders from RestoWise, along with room service orders if you're a hotel's in-house restaurant.
Easy and Clear Menu Management
Our RestoWise restaurant POS allows you to set up as many menus as you'd like; seasonal, periodic, and happy hour sessions. It can be classified with different types of food categories and Groups. It even makes the menu pricing effortless. Menu can have the pictures or color and numeric codes for easy operations.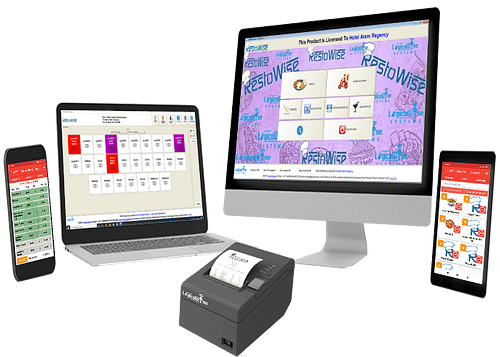 Configure Terminal, Printer
Manage Menus, categories & Groups
Fully dynamic Tax (GST/VAT any kind) management
Manage Supplier and their payments
Manage daily expenses and wastage.
Manager RestoWise Users & Permissions
Manage Restaurant sections and Tables
Complete Business Analysis with 100+ Types of Reports
Table Based Orders
It create order, add items. You can add custom cooking instruction in order. Also adjusting tips can be done immediately or later.
Kithcen Control
We offer both kitchen printers and kitchen display options. Stores can use a separate terminal with touch screen kitchen display system.
Bar Control
We offer both bar printers and bar display options. Stores can use a separate terminal with touch screen bar display system.
Reports
It ships with standard set of financial reports including Sales analysis report, Sales Summary, Productivity, Hourly income and Tips.
Back Office
With few clicks administrator can access back office and configure store and terminal. Admin can also generate different sales and payroll reports.
Inventory Management
Manage recipes, stock, consumption and purchasing. Reduce waste by knowing what's likely to go waste, especially your high value ingredients.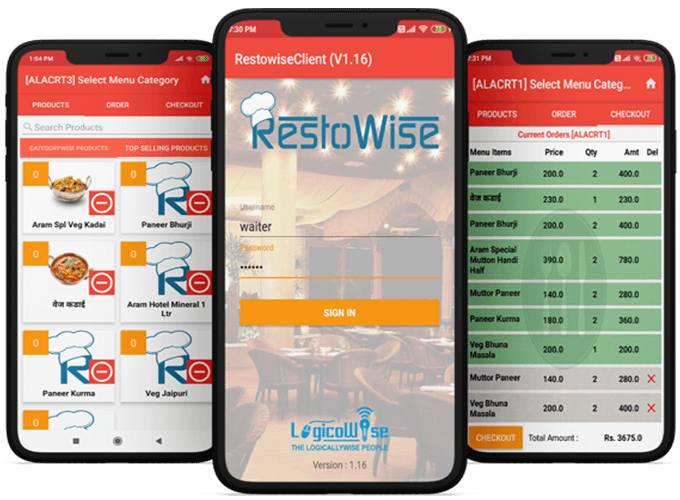 RestoWise Order Taking App
RestoWise Order Taking App (An android based Mobile/Wireless order Taking System) is the fastest way to handle restaurant orders through the waiters/captain Mobile App.
Waiters can filters menus according to Categories and groups. They Can easily add, update menus or quantities of the order items. Each menu order item can be equiped with the cooking instructions. The kitchen receive the orders as soon as the waiters take them. This make paperless order management. It can either print orders in the kitchen (KOT) or it will float to our smart KDS (Kitchen Display System),which helps kitchen user to manage orders and also final Invoices for customers. Also waiters can see their own generated / opened orders records, with following features.
Reliable and faster table orders
Relying on your waiter's memory is unreliable and using pen-paper is slow. Switch to RestoWise Waiter and manage table orders smartly. You can also split and swap tables from the waiter app.
Send orders to multiple kitchens
RestoWise waiter can send kitchen order tickets (KOT) directly to the kitchen along with an optional copy for the server. If you run multiple kitchens or counters, RestoWise splits and generates KOT for each kitchen.
Review & cancel previous orders
RestoWise Waiter can also be used to review a table's order history and also to cancel items from a previous order. The cancellation order ticket is directly sent to the kitchen from the waiter app. (If order is not prepared or under preparation then only gets cancelled)
Capture customer details
Use RestoWise Waiter to capture your customer details and build your customer database. The occupied seats is used to get an idea on how much footfall you are getting.
Get actionable customer feedback
Customers can provide feedback and select their favourite products in the digital receipt they receive. Use the Feedback app to track and act upon your customer's feedback.
Always sync with RestoWise main POS Server
All RestoWise Waiter apps in the outlet seamlessly sync with a central RestoWise Desktop. The cashier operates the RestoWise desktop to record payment and close the order.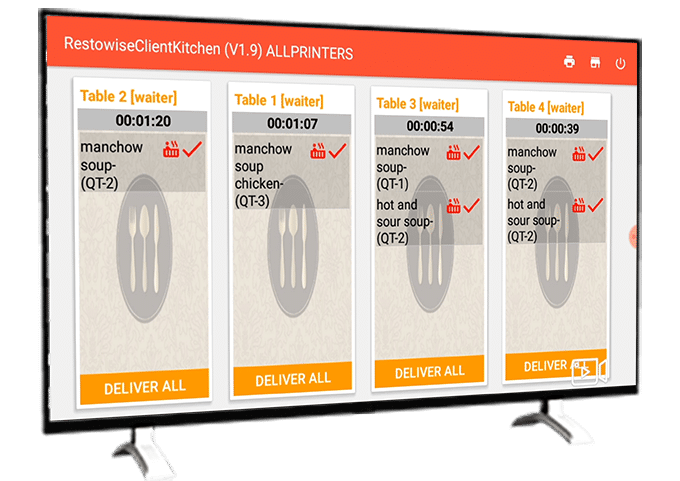 SMART KITCHEN DISPLAYS System
Simplify communication between Captain, kitchen staff and servers. Your servers ring up orders in RestoWise POS, and RestoWise Smart Kitchen Display System immediately brings them right in front of your kitchen staff eyes, without delays. Elaborative and informative ticket headers clearly indicate order waiting time, drawing attention to what has to be cooked and served first by ordering the tickets in Queue. Less late orders, more happy customers and more profit.
The KDS is not only useful for a dine-in restaurant, but also for a QSR's and take-sways. You can customer the KDS workflow based on how you operate the kitchen and whether you do table service.
Advance preparation station routing
Route orders to the correct station – whether it's dine-in, takeout, or delivery.
Never lose a ticket / Ticket recall
Mark orders as completed with a single touch. Easily recall them as necessary also Digital tickets can't get dropped in the fryer.
Supports Wide range of Smart TV as KDS
Being a android app, do not need any special Hardware for the RestoWise KDS, any Android smart TV or Android box can be converted to Smart KDS.
Customizable sound/Visual color notifications
In a noisy kitchen environment, KDS will chime to announce each new order and SLA missed orders with sound and color visual alerts.
Seamless installation
Download and install the APK in an instant. Use the same account you've been using for RestoWise POS.
Less paper, less mess
Say goodbye to kitchen printers and those chunky paper rolls. Save and go green.
These guys are outstanding. They visited my Hotel for installation and Guided me on the product. The software works great and they go the extra mile to ensure their customers are happy. I'll continue to use RestoWise POS as my restaurant grows.
A very reasonable priced license and overall software. Will strongly suggest starting using basic licence to have a better understanding but advanced full featured RestoWise with Mobile app and Smart KDS instead is much more solid, stable and plenty of functions
We are a full service restaurant that does about 200 covers for dinner on weekends, and we've been using RestoWise POS. It is a very robust and stable platform. We have experimented with many other POS's we could find and RestoWise is by far the very best in terms of simplicity and functionality.
Been running RestoWise with Mobile order app and KDS at our busy full-service restaurant since day 1. Even the less tech-inclined servers, waiters pick up on it in less than an hour. Their customer service is friendly, helpful, and always prompt.




Hotel Taksh, United Kingdom.
Hotel Divine, Tasgaon, Dist-Sangli.
Kings Resto, Vita.
Hotel Apali Awad, Pune.
Hotel Shalini, Tasgaon, Dist-Sangli.
Monginis Cake, Dange Chowk.